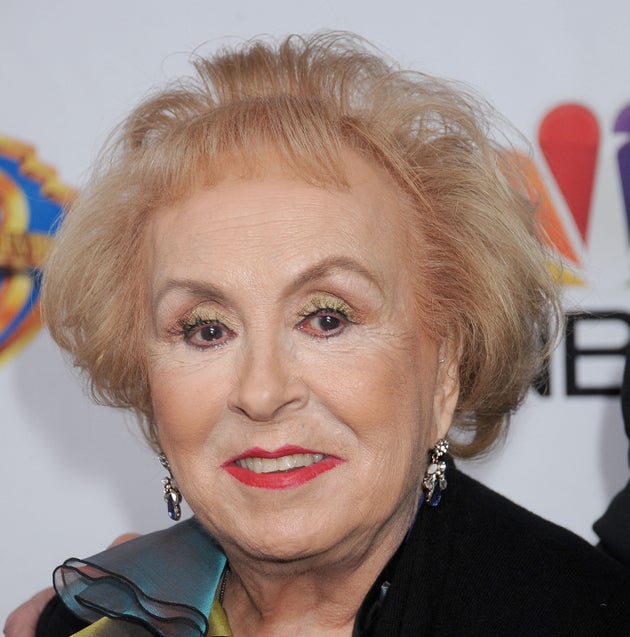 Image from source, Huffington Post
Certain celebrities have popped up in so many places throughout your life, you get a little surprised when you hear they've passed. What? No, that's not right, you think. She's always around somewhere. She's always the
same
too, in the case of Doris Roberts. What I mean by that is, she was a terrific actress, but she was for all intents and purposes, always herself. And she was one of those ladies "of a certain age," seemingly, who was really impossible to peg as far as that goes.
Like Rose Marie, Edie McClurg, Betty White (all of the Golden Girls, really), and Cloris Leachman to some degree, Roberts seemed to start out middle-aged, and then only slowly age from decade to decade. In the early 1980s as Mildred in
Remington Steele
or the 1970s as Theresa on
Angie
, or Mrs. Flotsky on
Soap,
and nearly everything I've seen her in (I know without checking there have to be credits for
Fantasy Island, Love Boat
and
Hotel
),
THERE
she is. I know her! I like her! That was my reaction, and I suspect until she started playing Marie on
Everybody Loves Raymond
, most of America just knew her from "somewhere." And liked her.
RIP, Doris!
[Excerpt]
Doris Roberts, Star Of 'Everybody Loves Raymond,' Dead At 90
Doris Roberts, a character actress who labored honorably both on stage and screen for years before finding the perfect vehicle for her talents, the hit sitcom "Everybody Loves Raymond," died on Sunday. She was 90. . . .
Read more at: Huffington Post