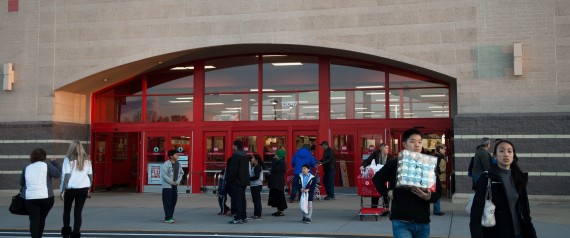 Image from source, Huffington Post
I saw this coming, and have commented upon it before, probably in this space: Greed is killing the golden goose. "Black Friday" and "Cyber Monday"--both greed
created
quasi-events--are becoming so diluted by greed, they will likely either have to be overhauled or transmogrified into something new.
Presently, stocks are having a bit of a sour tummy after gotten the news that Black Friday is in decline. But it's no surprise. Black Friday itself--originally a "doorbuster" event that started before dawn the day after Thanksgiving--has crept backward to the point where many businesses were open Thursday evening, and some even early Thursday morning. Beyond that, many businesses had offers all week, which renders the day-specific name rather pointless. In addition, the brand has been attached to month-long or even season-long campaigns, not to mention scads of spam emails.
The same has happened to Cyber Monday--a day-specific online sale event, originally--even worse, if that is possible. Amazon and other retail outlets push special deals all season-long, right up to moments before Christmas (and likely after). Neither day is "special" anymore. There is no reason to plan to plunk down the bulk of your shopping wad on either day, when other deals are being dangled for days and weeks. What's the point?
So, I hereby predict: there will be changes to this whole concept. We'll have a special "this is really it" new mega-deals day one year. Black Friday and Cyber Monday will still be a thing. Sort of. But there'll be something new. Or the on-going, every-day specials will have a new name. Trust me on this. But greed will wreck that too.
[Excerpt]
Black Friday Weekend Slows Down As Allure Fades
Black Friday fatigue is setting in. Early discounting, more online shopping and a mixed economy meant fewer people shopped over Thanksgiving weekend, the National Retail Federation said Sunday. Overall, 133.7 million people shopped in stores and online over the four-day weekend, down 5.2 percent from last year, according to a survey of 4,631 people conducted by Prosper Insights & Analytics for the trade group. . .
Read more at: Huffington Post