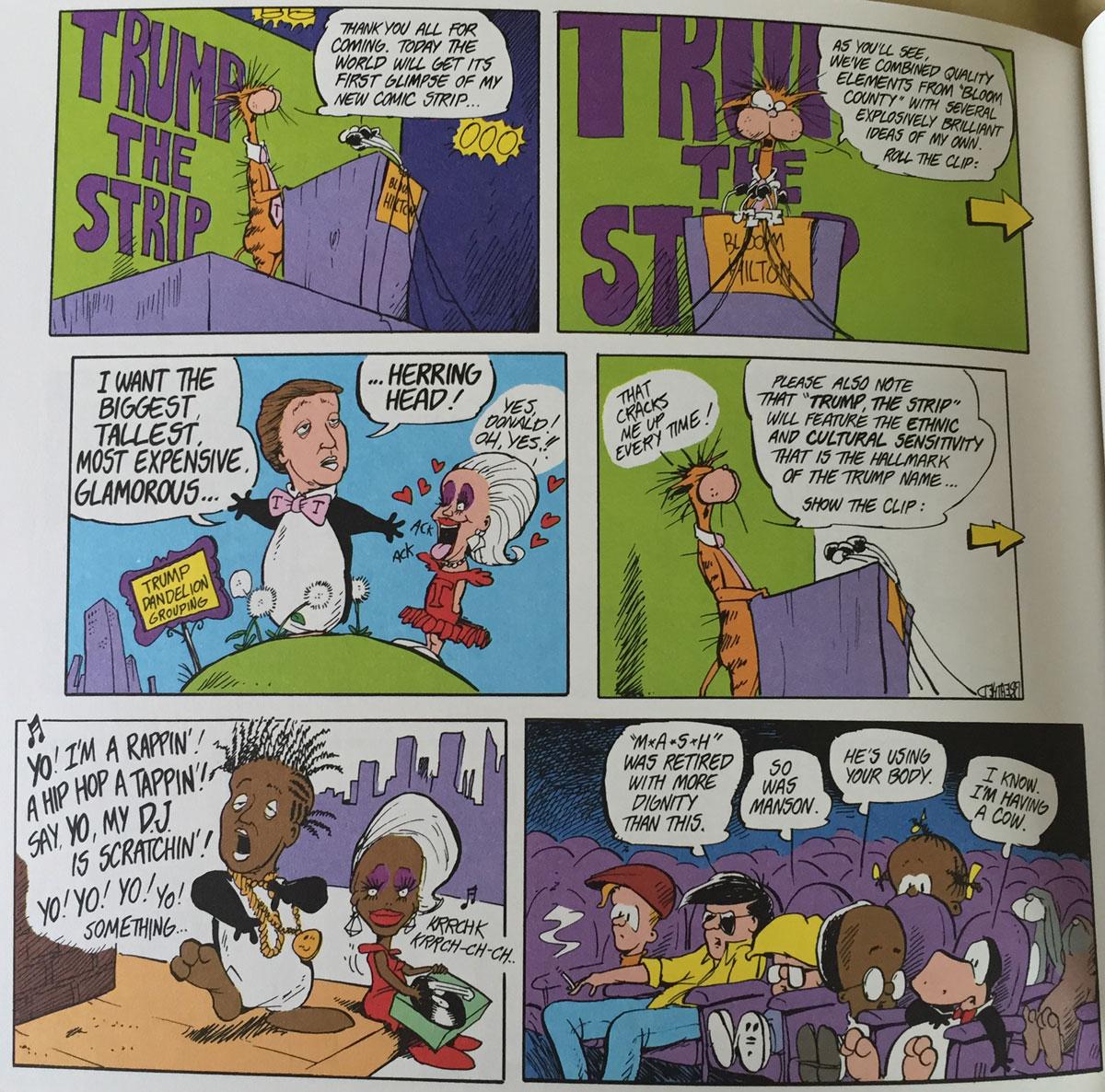 Trump-themed Bloom County strip from late
in its run.
There has to be a catch. It's got to be too good to be true. My bookshelf is stuffed with the published works of three retired--and brilliant--cartoonists. The complete library editions of
The Far Side
by Gary Larson,
Calvin and Hobbes
by Bill Watterson and
Bloom County/Outland/Opus
by Berkeley Breathed even made the 2,500 mile journey from Las Vegas last winter when we moved, even when other prized possessions didn't make the cut. Since those three artists quit contributing to it, the funny pages have been an insipid wasteland for the most part. And the world is poorer for it.
But as you can see, one of them has a tendency to come out of retirement. Breathed didn't just have one strip, and he didn't only retire once. He's returned before. The first time was a semi-retirement, when he literally put
Bloom County
out to pasture, but kept the Sunday space in the paper for the
Outland
spin-off. The daily dose was gone, and the familiar feel was largely replace with the surreal, but there was enough left to enjoy. Then he fully retired from the comics, leaving heartbroken fans to re-read the collected editions for seven or eight years. Then, in the early 2000s, he came back and brought
Opus
with him. Still Sundays only, and this time with high artistic flair. Even so,
Opus,
like
Outland,
soon came to feel like a proper
Bloom County
sequel. And then, Berke pulled the rug out from under us again.
Three
finales, we've lived through!
Through the wonders of the internet, and social media, there have been little nuggets to follow in recent years. But a boulder dropped this morning:
Bloom County 2015
. Can it be true? Could Donald Trump's run for president (after decades of threats) have been enough to drag Opus & Co. out of the boarding house, and into our newspapers, or at least computer screens? It looks like it, yes.
Image from source, Huffington Post
But there's got to be a catch. I know there must be. Whether it's a limited run, sporadic in nature, comes in binge-worthy Netflix-style batches, or one every so often, Breathed fans will eat them all up. But I'm going to enjoy them for what they are, and not get my hopes up too high. I won't count on a library edition-sized book version of the new strip to accompany the rest. But if it should ever amount to that, you can be sure it will find a home there.
Thanks to my friend Tracy for the tip.
[Excerpt]
'Bloom County' Comic Strip Is Coming Back
The iconic 1980s comic strip "Bloom County" is coming back after ending more than 25 years ago. Berkeley Breathed, creator of the Pulitzer Prize-winning strip, posted an image on Facebook of himself working on a strip called "Bloom County 2015" with the beginnings of what appears to be Opus the Penguin. . .
Read more at: Huffington Post