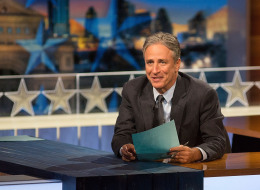 This is a day many fans have long feared. After the exodus (or planned exodus) of luminaries like Stephen Colbert and David Letterman (and to a lesser extent, Craig Ferguson) from their groundbreaking late night shows, Jon Stewart is leaving
The Daily Show.
This one probably hurts the most, as Stewart is a nexus of sorts for pop culture, humor, news and politics. He brought it all together, particularly for liberals and progressives.
I dare say, neither
The Daily Show
/Comedy Central (whatever becomes of the franchise), nor Stewart himself, will eclipse what they've achieved with the program. A new star may be born, of course (and John Oliver may be sorry he jumped ship). But the gravitas Stewart earned in that chair, and the zeitgeist that formed around it will be difficult for any involved to ever recreate. What it does, is open the door for the new
The Late Show with Stephen Colbert
to take off, unencumbered by competition from his previous boss. I'm hopeful that Samantha Bee and Jason Jones, along with the fleet of amazing writers at
The Daily Show
either manage to rebuild and/or maintain some of the brilliance Stewart managed to deliver. But I fear without him as a linchpin, this moment in American pop culture just may be coming to a close.
[Excerpt]
Jon Stewart Leaving 'The Daily Show'
Jon Stewart will step down as host of "The Daily Show," he announced during Tuesday night's taping. Comedy Central confirmed the news in a tweet.

Stewart has been at the helm of the beloved satirical news program for over 15 years. He will continue hosting the show until later this year. . .
Read more at: Huffington Post