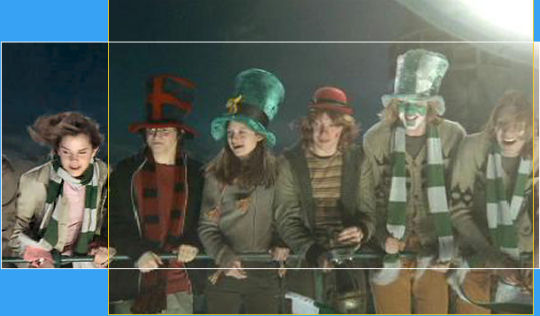 Images from plum.cream.org
This is an old subject for many of us, one we've argued (mostly with older folks, like parents or grand parents) endlessly. But until yesterday, I wasn't arguing with all the information. I've preferred widescreen movies since they first became available on LaserDisc and on some "special" VHS tapes. The black bars on my old 26" 4:3 tube TV never distracted or confused me. I was aware that this allowed for the full picture to be seen. Or does it?

The argument was a little simpler when almost everyone still had the old, squarish TVs. You got black bars (sometimes big ones), or you filled the screen. Thus, "widescreen" and "full screen." Now, with 16:9 widescreen TVs much more common, the full screen moniker doesn't really make as much sense. And of course, your dad will still try to stretch and squeeze whatever picture he is watching to the full dimensions of his set, rendering the people either short and fat, or tall and thin.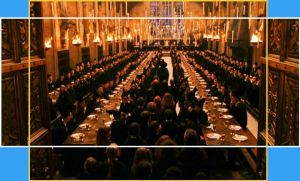 Considering myself something of a pop-culture guru, I thought I had all the answers. In the old days, movies and TVs were of about the same dimensions. Then when TV really took off, the movie makers started making films wider and wider, so they'd be more special than TV. Eventually, they settled on 1.85:1 or 2.39:1 ratios for the most part. So when the wide movies were ported to TV, they had to "pan and scan" them. Basically, they had to take the theatrical print, and move the image around to capture as much of the action as they could to still make the scenes make sense.
This can lead to dizzying, jarring viewing if there is a lot of action on the sides of the picture. Or--even worse--it can completely obscure what is going on. Say there are two people talking, one on the left and one on the right. With pan and scan, you either have to watch a tennis match, or one of the characters is just cut out of the frame. Movie fans could feel cheated too, because big parts of the picture were just lopped off. This was rectified when "letterboxed" movies started to form a niche.
Letterboxed movies differ from most modern widescreen movies in that they were still formatted for the old-style 4:3 TVs. They included the black bars, and had to shrink down the picture to get it to fit. If you put one of these old movies on a modern 16:9 TV, you'll have black bars on all four sides of the picture (unless you adjust it, in which case you have to zoom, usually resulting in a grainy picture). But letterboxing was a step in the right direction, sort of getting people ready for the widescreen phenomenon.
Even before 16:9 TVs took off, DVD players started becoming commonplace. Fortunately, most of them automatically adjust to most modern DVD discs. The player must be set by the user (wonder how often people know this) to tell it what size the TV is, but once that is done, you don't usually have to fiddle with any settings to get the proportions right. This is complicated by other controls that can be fiddled with on the TV, so I'm betting a high percentage of users still have distorted pictures and don't really understand what to do about it.
This is all starting to iron out, with the advent of HDMI and Blu-ray (and DVRs, and TiVOs, and who knows what). Eventually, everyone will have a set and an input device that automatically snaps to the correct settings. We're not there yet, but we will be. And our dads will still try to muck it up. And full screen movie selections will probably be completely phased out, except in instances where that size is the original and only version. But this still isn't getting to my point that "full screen" isn't always a bad thing.
I can't tell you how many times I've been disappointed to bring home (as a gift or impulse buy) a full screen DVD. "Damn it! It's full screen!" Crappity-crap-crap! I'm not alone, and while perusing a movie lover's message board last night, I happened upon this same age-old argument. There are still full screen aficionados, people who love to fill up their TV with color and abhor black bars. Some don't care if the picture is cropped, some don't understand the concept. I saw widescreen fans calling full screen "yokelvision." Which is pretty danged funny right there.
I then happened upon a few posts insisting that "most" movies are shot in full screen dimensions in the first place, and that widescreen movies actually crop the top and bottom off! I was doubtful of this claim. But it is partially correct. Many ("most" is a dubious claim) films are shot in a more square-ratio fashion. They are "matted" to the widescreen dimension either pre- or post-production, either in the camera (hard matting) or in the projector (soft matting). If it is matted in the camera, you're done, it's a wrap, only the widescreen version will exist as a master product. But if it's soft matted. . .
Many if not all movies on TV until recently were made from theatrical prints, and thus came to the editor hard matted. That's why they had to be panned and scanned. But if the editor gets a soft matted film, he can pan and scan and use the image to the top and bottom that would have been cropped out at the theater. The risk in this is that you might see boom microphones or other equipment. You might see areas of the film that are outside the set, or other extraneous information. But if the director had both full and widescreen in mind when he made it, you might just do better--or equally well--with a full screen DVD. This is assuming of course that you have an old 4:3 TV. On a widescreen TV, your full screen movie will have black bars on the sides! Oy.
So that was a long way to go (and probably inartfully written, as well) to bring you to a site that compares--via the Harry Potter films--full versus widescreen. It's very interesting to see what is "chopped off" from each style. Sometimes the full has more information, sometimes the wide does. Sometimes it is a draw. But as you'll see, when the director chooses to hard matte the source material (as in Harry Potter and the Prisoner of Azkaban) there is no choice to make: the full screen version is absolutely dreadful.
[Excerpt]
Harry Potter: Widescreen or Fullscreen?
Which is better: the "widescreen" or "fullscreen" DVD edition of the Harry Potter movies?
Although seperate widescreen and "fullscreen" versions of the first movie were released in all major markets around the world (although, as I recall, Australians only had the fullscreen edition), I find it intriguing and interesting that North America (DVD Region 1) is the only market for which Warner Home Video have released full screen versions of the further movies. I assume that poor sales of the full screen version in other markets caused them not to bother, whilst Americans seemed to prefer the full screen version. . .