Well, well, well. As my favorite blogger Joe Jervis at Joe.My.God. is fond of saying,
"Zoom, zoom."
We've basically racked up 12 states in 12 days into the marriage equality camp. That puts us--unless my math is wrong--at 31 states plus Washington DC with same-sex marriage! 19 (plus Puerto Rico, US Virgin Islands, etc.) to go!
These two states are particularly shadenfreude-filled, because both states have had a
lot
of anti-gay animus from the GOP leadership. A hearty Nelson Muntz
"Ha ha!"
to anyone feeling even a modicum of discomfort over this subject. And perhaps, in addition to the futility of obstruction seen in Nevada and Idaho, this will illustrate to other states that are dragging their feet. It's quite simply a waste of money to try to delay any longer, particularly in any state where a Circuit Court has already ruled. Texas, Louisiana, Ohio. . .your circuits haven't ruled yet, so you have a (tiny) ledge to stand on here. But I wouldn't throw much of the budget at it, if I were you.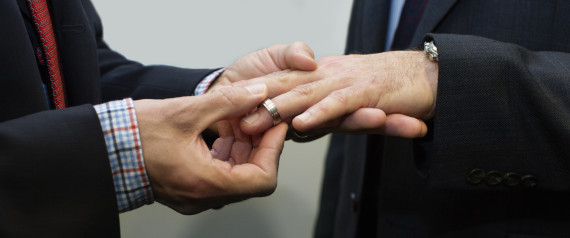 [Excerpt]
Supreme Court Allows Gay Marriage In Alaska
The U.S. Supreme Court on Friday allowed gay marriage in Alaska to go into effect, increasing the number of U.S. states that permit gay marriage to 31. . .
Read more at: Huffington Post
[Excerpt]
Judge strikes down Arizona's ban on gay marriage
A federal judge has cleared the way for legally recognized gay marriages in Arizona by ruling that the state's ban on same-sex unions is unconstitutional. The ruling Friday by U.S. District Judge John Sedwick bars state officials from enforcing a 1996 state law and a 2008 voter-approved constitutional amendment that outlawed gay marriage. . .
Read more at: MSN/AP