Back in the early days of the blog, I posted a series of lists of my favorite Halloween films. Since then, I've written more, and repost some of them every year, with a few updates and additions. This one is one of the most important, if you actually want to get
scared
by your horror. . .
There are nearly as many "top 10" horror movie lists as there are horror fans. But, for the list to have any relevance, you have to quantify what you mean by "horror." There's the kind of movie that really scares you, and keeps you up at night. There's the kind that makes you laugh (yes, horror can be funny). And there's the kind that is just iconic--they might not scare you exactly, but leaving them off of your list is heresy.
So, because I'm unable to whittle all of those types down to 10, here is one that is just focussed on the really scary horror movies. Hopefully, you can use this for your Halloween night suggestion list.
Greenlee Gazette Top 10 Scary Horror Movies
1.
The Exorcist
(1973) - This is the granddaddy of all scary movies. Even better if you're Catholic (so I'm told), or have ever had a devil dream (which I have). Loses none of its punch, 35 years later, except for a few anachronisms that remind you:
"Hey, this is a 70s movie,"
like lighting up cigarettes in a hospital! You know the movie has really got something when it can effect a completely non-religious cynic like me!
2.
The Hitcher
(1986) - Maybe not strictly "horror," but
definitely
scary. The first time I watched this, I was on the edge of my seat for the whole film. Rutger Hauer is one of the scariest villains ever on screen. Sometimes the tension is almost unbearable. Though C. Thomas Howell's 80s 'do might take you out of the moment. But, skip the sequel and the remake, seriously.
3.
Dawn of the Dead
(1978) - The greatest zombie movie of all time packs in the gore, shocks and scares. Possibly the best low-budget horror movie of all time. Even Leonard Maltin thinks so. Mall culture may be dying, but not
quite
like this! The sequel looks newer and snazzier, sure, but the original can't be beat.
4.
The Omen
(1976) - Creepy, scary and right up there with
The Exorcist
for religion-inspired nightmares. That little Damien kid is the archetype for all scary horror movie children. Yet another where you can skip the remake, but the first two sequels have their moments.
5.
Halloween
(1978) - The godfather of slasher flicks, this film will actually make you jump. Great suspense, good payoffs, and an incredible score. Jamie Lee Curtis is the best movie scream queen in cinema history. The first remake was okay, but not this good (and not scary). But if you like this one, Parts 2, 4 and 5 are pretty good. The rest are rubbish, as is the remake of part 2.
6.
28 Days Later
(2003) - A modern update of zombie movies--sort of. It
will
scare you, and give you a vague discomfort hours later. The sequel? Nah.
7.
Phantasm
(1979) - This (extremely) low-budget film has more scares than some entire horror franchises. The Tall Man is one of the creepiest villains ever on film, short of Dick Cheney.
8.
A Nightmare on Elm Street
(1984) - Sure, you may have forgotten that the series started out
scary,
but the first film in the franchise delivers the scares, and an eerie nightmare vibe. First time viewers will have a hard time sorting out dreams from reality. Some of the sequels are good, but none are as scary.
9.
Hostel
(2005) - This is in the current trend of "horror porn," where the camera lingers on the cruelty and gore. But it is undeniably scary, and will freak you out. The sequel? Not so much.
10.
Hellraiser
(1987) - The series has been diluted by the countless sequels, but the original still gives me the creeps. Pinhead and his Cenobites
will
tear your soul apart! Again, sequelitis robs this one of its novelty and creepiness. So, avoid them if you're looking to get frightened.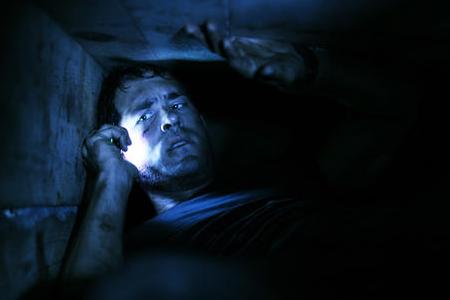 (Bonus)
Buried
(2010) - While this movie may not quite be typical Halloween fare, it is
by far
the scariest movie I've seen in years. I'm unflappable (beyond a flinch or two) with virtually anything the horror genre can dish out, but this one? I had to press "pause"
five times.
Just to catch my breath, and regroup.