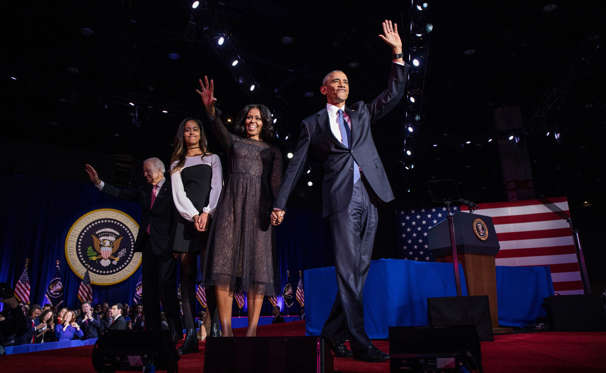 Image from source, MSN
The "millions mourn" in my headline is an assumption, though one I think that is a pretty fair bet. Donald Trump will not, can not, could not give such a speech. We will not have a presidential press conference, speech or public appearance that will rival that speech, not until we have another presidential election. On top of that, we're likely to be embarrassed--possibly even imperiled--any time he opens his mouth, or freaking
tweets.
So, there's that.
But for now, let's luxuriate in what it's like to have a smart, classy, qualified president. Shall we?
[Excerpt]
'Yes we did' — Obama bids farewell in nostalgic last speech
President Barack Obama bid farewell to the nation Tuesday in an emotional speech that sought to comfort a country on edge over rapid economic changes, persistent security threats and the election of Donald Trump. Forceful at times and tearful at others, Obama's valedictory speech in his hometown of Chicago was a public meditation on the many trials the U.S. faces as Obama takes his exit. For the challenges that are new, Obama offered his vision for how to surmount them, and for the persistent problems he was unable to overcome, he offered optimism that others, eventually, will. . .
Read more at: MSN