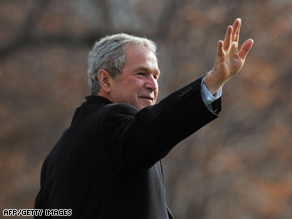 A very unusual statistic in American politics has become evident over the last 8 years. Apparently, approximately one quarter of the American populace will follow the Republican Party, no matter who is in charge of it, or how incompetent they are. We can't be sure if there is an equal amount of Democrats who would react the same way, but I suspect the actual number of liberal progressives who march in lockstep with their party is much less than 25%.
This is a bit troubling. Because, it assures a built-in "will vote GOP" group, despite "the facts on the ground." No matter how bad or how corrupt the GOP might be at any given time, they are guaranteed one quarter of the vote. No matter how good a Democrat is, they've already lost 1 out of 4 voters.
[Excerpt]
Poll: 75% glad Bush is done
new national poll suggests that three out of four Americans feel President Bush's departure from office is coming not a moment too soon.
Seventy-five percent of those questioned in a CNN/Opinion Research Corp. survey released Friday said they're glad Bush is going; 23 percent indicated they'll miss him. . .