I mean, wouldn't you? Poor guy.
[Excerpt]
Wesley Warren Jr., Man With 132-lb. Scrotum, Dead At 49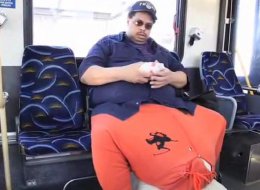 Image from source, Huffington Post
Wesley Warren Jr., who received worldwide notoriety because of his problems with a scrotum that grew to 132 pounds, died Friday at a Las Vegas hospital. He was 49. No cause of death was officially announced, but Warren's roommate, Joey Hurtado, told the Las Vegas Review-Journal that Warren had suffered two heart attacks recently. . .
Read more at: Huffington Post