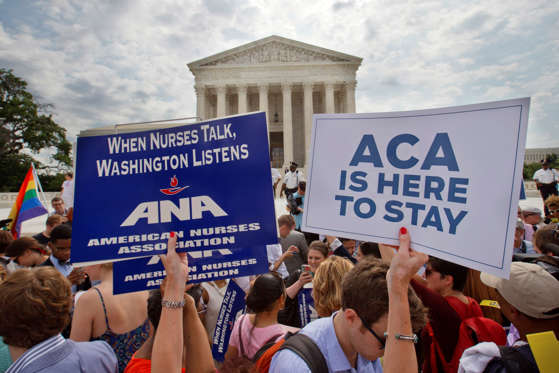 Image from source, MSN
What does it all
mean!?!
That's where I am with the trickle of SCOTUS decisions happening this month. The decision on the Affordable Care Act (ObamaCare) was kind of a no brainer, but a no-brain decision was what I was fearing would happen, given the shocks we've gotten in the past (Voting Rights Act, Citizens United, Hobby Lobby). But, whatever you think about the specifics of the ACA, the
case
was bollocks, and SCOTUS agreed. Good for them.
But given this big liberal victory, what does it say about the still-to-come decision on gay marriage? Or
does
it say anything at all? Before today, many were confident that SCOTUS would rule in the affirmative for marriage equality, but that the ACA decision was decidedly more sketchy. That should be heartening, since the tougher of the two went the right way. But what if there was some sort of trade with the conservative justices? I'll give you your ObamaCare, but we get our way on marriage? It could happen. But I hope not.
Nervous and tired of waiting.
[Excerpt]
Supreme Court upholds nationwide health care law subsidies
The Supreme Court on Thursday upheld the nationwide tax subsidies underpinning President Barack Obama's health care overhaul, rejecting a major challenge to the landmark law in a ruling that preserves health insurance for millions of Americans. . .
Read more at: MSN