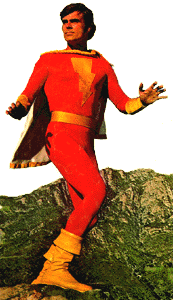 Photo from MarvelFamily.com
OK, now veering wildly from serious to silly. . .
I was going to update my earlier post about the upcoming
Shazam!
movie, but decided to give the old show its own post. This was an important part of my early Saturday morning back when I was 8 or 9, especially after
The Mighty Isis
joined the show in the second year! Add that to
Superfriends
and this superhero-lovin' kid was in heaven.
The
Shazam!
TV show was very loosely based on the comic, with significant changes made to the storyline. In this version, Billy Batson was a teenager, travelling the country with his "Mentor," a relationship that was never clearly spelled out. Billy didn't seem to go to school, but tried to get other kids to keep going. It was much in the style of the "after school specials" of the day, with a heavy-handed moral message in each episode.
Captain Marvel was played by two different actors over the run of the series, the miscast John Davey with a 70s mop top, and the much better Jackson Bostwick (who still didn't really look like Cap, but did look super-heroic), pictured at left.
While the show holds a special place for my inner child, I'm hoping the upcoming movie does a better job. And that's a low bar!
Opening to
Shazam!
TV show
And if you're a fan like I am, there is a great resource to check out all things Captain Marvel and Shazam!:
MarvelFamily.com