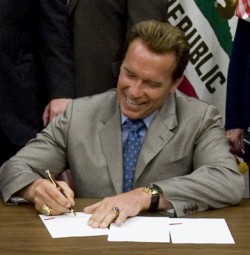 Hey, it only takes a few seconds, and you'll feel better after expressing yourself. And hey, if you were in opposition to the California Supreme Court's decision to allow same-sex marriage, just ignore this call to action. . .but feel free to leave a comment here explaining why.
[Excerpt]
The religious right is ticked that Schwarzenegger said he won't support a state constitutional amendment in California to ban gay marriage. So they're flooding him with phone calls. The governor's office has an automated system to count such calls. Please add your voice, it's really easy, I just did it (in a whopping 6 seconds):

Call 1-916-445-2841. Then press 1 (then wait a sec), then 5 (then wait a sec), then 1, then 1.

That's it. If the line is busy, call again. I got through on the second try.