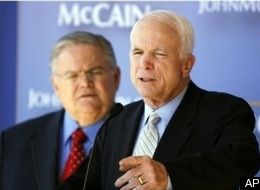 Photo from source, Huffington Post
Presidential primary politics is particularly peculiar. Sorry, I was overcome with alliteration. What's strange is this apology/renouncement parade. Barack Obama was besieged by endless talk (started by Sean Hannity it would seem) about his pastor, Rev. Jeremiah Wright, and his association with some dude who was some sort of terrorist 40 years ago. On and on, endless chatter--and Hannity is still at it, even though Obama repudiated the actions and words of both guys.
Now, John McCain has
finally
had to do the same thing with two pastors he actively courted for endorsements, Rod Parsley and John Hagee. Both of these guys had reputations that were very well known. They're crazy mega-church fire and brimstoners. What did he expect? And what took him so long? When it was Catholics and gays that Hagee was bashing, McCain didn't budge. It took a Nazi reference to get McCain to flip-flop.
[Excerpt]
McCain Rejects Endorsements From Hagee, Parsley
In the face of mounting controversy over headline-grabbing statements from Pastor John Hagee, CNN has learned presumptive Republican nominee John McCain has decided to reject his endorsement.

The Huffington Post
had published
a recording of Hagee saying that Adolf Hitler had been fulfilling God's will by hastening the desire of Jews to return to Israel in accordance with biblical prophecy. . .
Read more at: Huffington Post