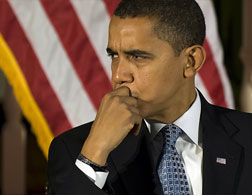 I've already written a few posts about the conspiracy theorists who are trying to disqualify President-elect Barack Obama from inauguration. I find them oddly fascinating, for some reason. But until now, I hadn't read a good write-up on why they're so wrong.
Well, I found a piece from Slate that pretty much shoots down all of their arguments. And it finally gives me a name for these people. The 9/11 conspiracy theorists are known as "truthers," and now we can call the Obama conspiracy theorists "birthers." I like it!
[Excerpt]
Change They Can Litigate
. . .If you thought Barack Obama's clear rout over John McCain meant we'd be spared a third Electoral College melodrama—well, think again. This time, the argument is not over votes. It's over Obama's citizenship.

Thanks to the increased simplicity of online organizing and coverage in talk radio and fringe political Web sites, the citizenship crusaders have grown numerous enough to irritate people at every level of the presidential vote certification process. . .