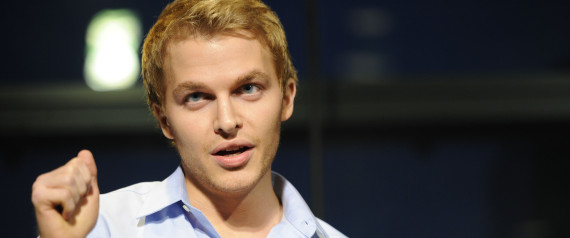 Young Blue Eyes. Image from source, Huffington Post
I don't catch a lot of MSNBC's daytime lineup, except for what would be considered "afternoon" programming sometimes on Fridays, when I'm off. I liked Thomas Roberts if I caught him. So, MSNBC's decision to shake up its programing doesn't affect me much. But even if I
did
watch more often, since all of their time slots are geared toward
Eastern Time
(like all of the rest of cable news), most of it is just on too early for me to care. But before I move on, I'd like to hammer this for a bit!
Listen, media conglomerates! The entire USA is not in the Eastern Time Zone! Yes, we appreciate that you tend to run the major awards shows (Emmys, Oscars, Golden Globes but curiously not the Grammys) and sports programming in
real
time. And there is the occasional nod to Central Time, sometimes even Mountain Time. But we in Pacific Time get a lot of ignoring! We often can't vote in live shows where viewers can call in. We get
Saturday Night Live
three hours later than "live." And we're in constant danger of being spoiled by accidental online surfing giving away a plot point for a show we haven't watched yet!
Anyway, my biggest loss from MSNBC's move is that Thomas Roberts got a "promotion" (which doesn't seem like much of one) to
Way Too Early
, which is certainly
insanely
too early for me. And
Frank Sinatra's
Woody Allen's son
Satchel
Ronan Farrow is getting a show that I might get to catch on Fridays. Even in the news releases, and on-air promos, only Eastern Time is given for any of the changes. So, I still have something to complain about. At least I get to watch
The Rachel Maddow Show
at 6pm, and don't have to jockey the DVR around prime-time, so I'll shut up now.
[Excerpt]
Ronan Farrow's Timeslot Amid Broad Shakeup
MSNBC announced a broad shakeup of its daytime schedule on Monday. Chief among the changes are the confirmation that Joy Reid will be given a permanent show of her own at 2 p.m., and the news that Ronan Farrow will occupy the 1 p.m. slot currently helmed by Andrea Mitchell. Mitchell has been moved to 12 p.m. Hall will shift to 11 a.m. The changes will take effect on Feb. 24. . .
Read more at: MSNBC