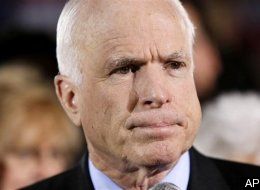 Photo from source, Huffington Post
It has long been a hallmark of the Bush Administration to deny having ever said or done things that are easily provable to be lies. How many times has Dick Cheney conflated Iraq and 9/11, only to deny it later?
John McCain told Arianna Huffington that he didn't vote for George W. Bush. Arianna says otherwise. From this post, I'd say I side with Huffington. And I'll be very happy to see this kind of politics to come to an end. How about you?
[Excerpt]
Through a spokesperson with the colorful name Tucker Bounds, McCain has denied telling me he didn't vote for Bush in 2000. "It's not true," Bounds
told the Washington Post
, "and I ask you to consider the source."

My sentiments exactly -- because John McCain has a long history of issuing heartfelt denials of things that were actually true. . .