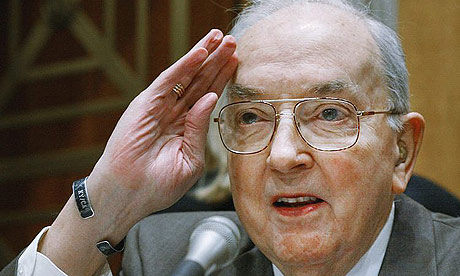 Photo from source, Guardian UK
I wrote an announcement earlier of the
death of Senator Jesse Helms
. At the time, I was unable to think of anything
good
to say about him, and so declined to comment. It would seem that I was not the only one having a difficult time. This obituary, from the Guardian UK (by way of
AmericaBlog
) sums it up best (emphasis mine):
[Excerpt]
Obituary: Jesse Helms
Senator Jesse Helms, member of the US Senate's foreign relations committee for two decades and its chairman from 1995 to 2001, has died at the age of 86. To echo this newspaper's memorable comment on the death of William Randolph Hearst, it is hard even now to think of him with charity. . .