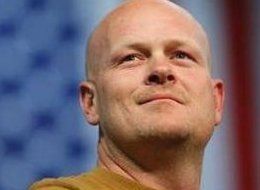 Photo from source, Huffington Post
Joe the Plumber was always a fraud. His name isn't Joe, he isn't a licensed plumber, and his "question" to Barack Obama was filled with inaccuracies. But we had to listen to him--and the invocation of his nickname--seemingly endlessly, during the final weeks of the Presidential campaign.
But all that stumping was a fraud too, as it turns out. At least as it pertains to John McCain. Joe doesn't like McCain much at all, but Sarah Palin? He loves her, sure, you betcha!
[Excerpt]
Politico reports that Joe Wurzelbacher isn't a huge fan of the man who made him famous. He told conservative radio host Glenn Beck that he
felt "dirty"
after "being on the campaign trail and seeing some of the things that take place. . ."