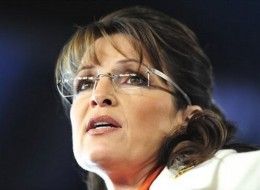 Photo from source, Huffington Post
Poor Sarah Palin. She can't seem to get anything right. In setting up a legal defense fund to help her with her ethics violations, she may have unwittingly committed another ethics violation! Also.
[Excerpt]
Palin Legal Fund Challenged As Ethics Violation
An ethics complaint filed Monday against Alaska Gov. Sarah Palin claims the legal defense fund formed last week to challenge such claims is an ethics violation itself. . .