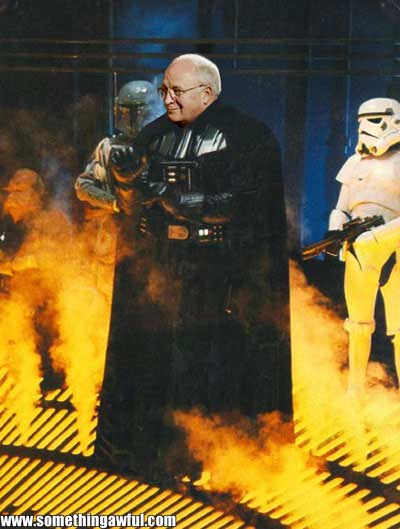 I didn't think, after the disastrous Bush/Cheney administration of 2001-2009, that I could have a lower opinion of Darth Cheney. But since Barack Obama was elected, then inaugurated, Ol' Dick has been on a mission to destroy not only Obama's administration, but the safety of America. His "warnings" have been thinly veiled wishes for a new terrorist attack. All for the purpose of furthering a potential GOP resurgence. I hope we don't fall for it. But after the last decade, I'm painfully aware how well these counter-intuitive mind-f*cks work. I'm not a praying man, but I surely hope Dick's efforts fail.
[Excerpt]
Dick Cheney's Campaign Of Treason Is Unraveling
Since at least last May, I have been unveiling the efforts of extremist right-wing politicians and pundits to signal our enemies in Al Qaeda that now is the time to strike (See:
The Republican Advance Team For Terrorism
). They have been waving their arms excitedly and shouting to anyone who will listen that America is less safe and, therefore, vulnerable. They have been partnering with their pals in the press to make sure that the message gets out. And they know full well that the enemy is paying attention. . .