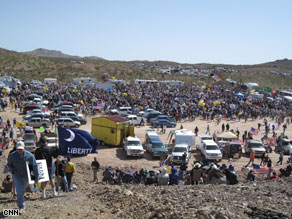 Image from source, CNN
I've said all along that the tea baggers are a big hot mess. A confused, misinformed, ignorant ball of crazy and/or stupid. Every time a video pops up on the YouTubes, this is confirmed. They're angry, but they have no idea what they're angry about. Beyond talking points, few can articulate
what
the whole movement is about. They're good at pumping each other up, reciting the scribblings from Glenn Beck's chalk board, and stoking each other's fire. Sooner or later, something bad was
bound
to happen. Of course this story has little to do with the anger and fear, but it does show a bit of the
scruples
involved.
[Excerpt]
Tea Party candidate might face felony charge
He's new to politics and learning fast just how rough a sport it can be.Scott Ashjian, the Tea Party candidate running for Senate in Nevada, could soon face a felony charge. . .
Read more at: CNN
Thanks again to Stupid Monkey Planet for the link.