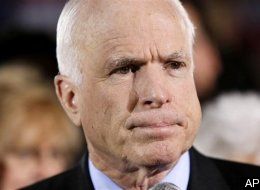 Photo from source, Huffington Post
With all of the focus in the Presidential race on Democrats, very little is being said about John McCain. Even FOX "News" barely mentions him, with most of their shows being wall-to-wall Hillary Clinton and Barack Obama. On one hand, this is good for McCain, as he's getting very little mud in his eye.
But this little nugget of information is getting very little play: McCain did
not
garner 100% of the Republican vote. . .or 90%. . .or even 80%. I'd say that's pretty interesting.
[Excerpt]
McCain's Base Problem
John McCain has been the nominee of his party for over a month now. He has no active opposition, no figure on his side of the aisle contesting him for leadership of the Republican party and the conservative movement.And yet, Republicans are still voting against him. In Indiana McCain
pulled in 77% of the vote
, and he made an even worse showing
with 73%
in North Carolina. . .
Read more at: Huffington Post