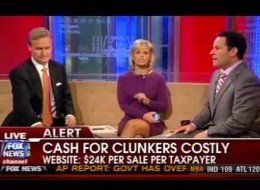 Image from source, Huffington Post
As if you needed any more evidence. . .
[Excerpt]

Fox And Friends: 22 Mentions Of Acorn And Pessimism About Rising GDP

The very public war between the White House and Fox News has produced a heated debate as to whether the cable network simply has a slant or, worse, is a vehicle for politically motivated criticism administration.

It is a distinction with a major difference. Being a launching pad for the Republican Party talking points would make Fox more a partisan echo chamber than a legitimate source of news. Having a slant, by contrast, is a qualification that more than a few legitimate news outlets share.

Read more at: Huffington Post