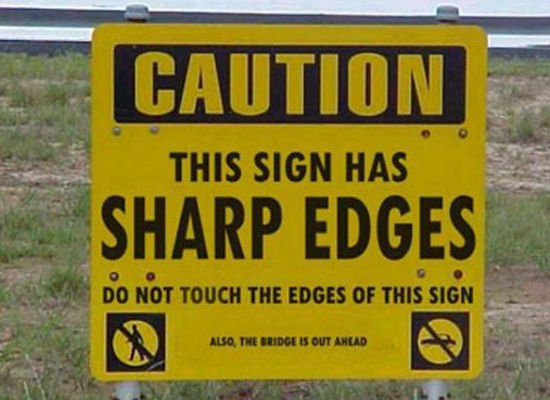 Image from source, Huffington Post
As a sign maker by trade, I found this particularly amusing. Usually, warning signs are only there as a preventive "cover your ass" measure, or--more likely--as an after-the-fact response to a previous problem. So consider which is going on with these signs, preventing people from doing something stupid, or preventing it again?
[Excerpt]
The Most Ridiculous Caution Signs Ever
Whether they're telling us the bridge is out or to beware of a dog, caution signs are there to help us. To give us a heads up that danger could be around the corner. But as you'll see, danger can come in many forms (there could even be a tree on the side the road!). While these are definitely ridiculous, it doesn't mean we should ignore their warnings. . .