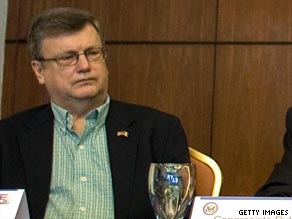 Image from source, CNN
No, it isn't deja vu, and this time it doesn't involve
the gay.
Not that it matters. This dude was an outspoken "one man + one woman = marriage" guy, and here he is dabbling with another woman? So don't fall for it when Sean Hannity says
"well, what about all the Democrats who have affairs. . ."
It's not so much the affair as it is the hypocrisy that makes this a story. And something I've gotta ask, no matter
which
party the philandering politician is from (excepting John Edwards), how do these ugly mo-fos keep getting
laid?
[Excerpt]
Indiana congressman resigns after admitting to affair
Rep. Mark Souder, R-Indiana, abruptly announced his resignation Tuesday, after acknowledging that he "sinned against God" by engaging in a relationship with a member of his staff.

The 59-year-old married father of three, who just won a competitive primary, said he will leave office at the end of the week. . .
Read more at: CNN