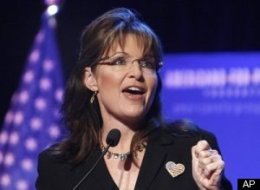 Image from source, HuffPost
If she can't make it there, can she make it
anywhere?
[Excerpt]
Sarah Palin 2012 Opposed By Majority Of Alaskans
A majority of Alaskans would oppose Sarah Palin if she were to run for the presidency in 2012, according to some intriguing if not surprising poll numbers released on Tuesday.
A new Rasmussen Reports telephone survey of likely voters in Alaska found 48 percent of respondents said they would not vote for their former governor in a 2012 presidential election. Just 41 percent said they would vote for Palin. Eleven percent said they were undecided. . .
Read more at: Huffington Post
Thanks to my friend Tracy for the link.