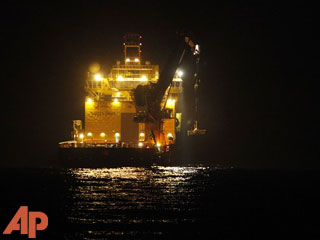 Image from source, 8NewsNow
Murphy's Law says that if anything could go wrong, it probably will. And with the BP oil rig disaster, it looks like just about everything
did.
So, why didn't BP have a contingency plan in case Murphy was right? Maybe they're not paying the CEO enough? Heh.
[Excerpt]
What went wrong at oil rig? A lot, probers find
Bad wiring and a leak in what's supposed to be a "blowout preventer." Sealing problems that may have allowed a methane eruption. Even a dead battery, of all things.
New disclosures Wednesday revealed a complex cascade of deep-sea equipment failures and procedural problems in the oil rig explosion and massive spill that is still fouling the waters of the Gulf of Mexico and threatening industries and wildlife near the coast and on shore. . .
Read more at: 8NewsNow
Thanks to
Stupid Monkey Planet
for the tip.