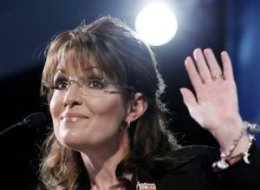 Image from source, HuffPost
If there isn't already a short YouTube clip of Keith Olbermann saying "That woman. . .is an
idiot,
" there certainly should be. It could be the simple summation to virtually anything Sarah Palin has to say about anything. Given an inexplicable forum to pontificate in her mangled Alaskish, she just spews forth a series of words, and we're supposed to take her opinions--such as they are--as though they come from some sort of authority. They do not. Her political opinions have no more gravitas than those uttered by second and third-tier local talk show hosts, or bloggers like me.
This time, Palin is trying to haul Rand Paul's butt out of the fire by claiming the whole controversy--over his views on the Civil Rights Act--was Rachel Maddow's fault. Newsflash, Sarah, but Paul made those statements on
NPR,
and Rachel was merely following up. It was Paul who could not answer the question directly, magnifying his out-of-the-mainstream position.
[Excerpt]
Palin: Maddow Was 'Prejudiced' In Her Rand Paul Interview
Former Alaska Governor Sarah Palin accused MSNBC's Rachel Maddow on Sunday of conducting a "prejudiced" interview with Rand Paul, in which the Tea Party candidate infamously aired skepticism about the reach of the Civil Rights Act of 1964. . .
Read more at: Huffington Post
UPDATE:
I couldn't find a Keith Olbermann "that woman is an idiot" clip, so I made one from a longer video. Wow, didn't know I could do that (it's my first try, so be gentle).