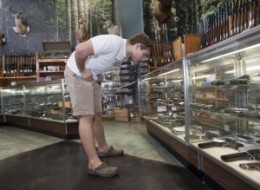 Image from source, Huffington Post
Sigh. Relax, gun nuts. They're not going to outlaw handguns. As has been stated by
better writers than me
, you've
won
, and no number of mass murders will cause an outlawing of your fetish.
[Excerpt]
Glock Pistol Sales Up After Arizona Shootings
Hey, everyone. Not to unnerve you, but apparently, days after a madman went on a murdery rampage with a Glock in Arizona, Arizonans are heading to gun stores in droves to purchase the very same weapon used by Jared Lee Loughner. It's as good an example as anything to demonstrate that there really is no such thing as bad publicity, only an implacable, gnawing cynicism that permeates our existence and sends us, sobbing, into a fetal position. . .
Read more at: Huffington Post