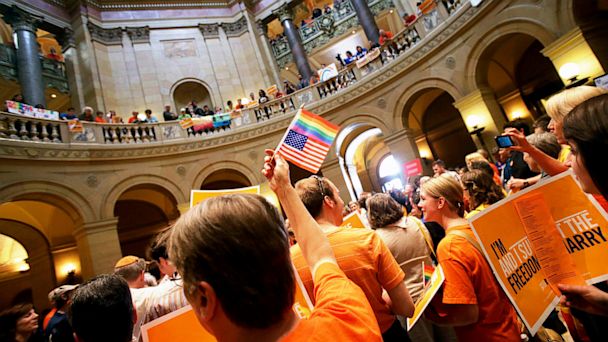 Image from source, ABC News
Whatever spin the anti-gay groups like the badly named National Organization for Marriage come up with, there is no denying it. There is a wave of momentum in the struggle for marriage equality. On top of four (out of four!) successful electoral fights in November 2012, and both DOMA and Prop 8 about to be decided by the Supreme Court in June, we've had
three
states affirm same-sex marriage in the space of two weeks.
While no one knows what to expect from SCOTUS, it is widely believed that one way or another, California will be added to the tally to make thirteen states plus the District of Columbia. Whether the DOMA ruling expands that number further, paves the way, or puts up a road block remains to be seen. Almost nobody expects a broad ruling that expands marriage equality in one fell swoop (though that would be
great!
). But few expect for DOMA to be outright upheld either. In fact it's ironic that the DOMA case hinges upon an unfair
tax law
, a usually conservative issue.
But while we wait, we can
celebrate!
Same-sex married couples are now legally recognized in over 25% of the country (by state/district). When California joins that column, we will
really
add to the tally, not just of states but of
people
. Now, if my home states of Ohio and Nevada could step it up a little (the ground troops
are
working on it!).
[Excerpt]
Minnesota Senate Votes to Allow Same-Sex Marriage
After a day of passionate yet respectful speeches on both sides of the issue, the Minnesota State Senate voted 37-30 to legalize same-sex marriage today, overcoming the last hurdle before the bill moves on to Gov. Mark Dayton, who supports giving same-sex couples the freedom to marry. Minnesota would join 11 other states and the District of Columbia in legalizing same-sex marriage, meaning that about 18 percent of the country's population has the option to marry regardless of gender. . .
Read more at:
ABC News