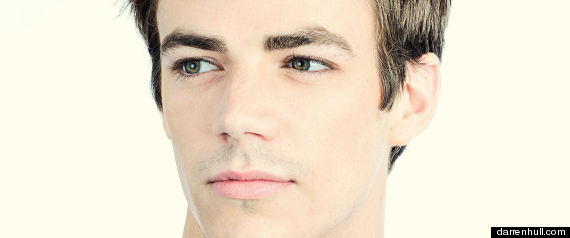 Grant Gustin, cast to play The Flash, image from Huffington Post.
I'm not sure I can figure out what DC Comics is up to. As a long-time fan, I've watched with jealousy while Marvel Comics fans have reaped most of the rewards, with their ultra-successful string of superhero movies. After failures (
Daredevil, Electra, The Punisher
), middling successes (
The Fantastic Four
,
Ghost Rider
), and mid-sized hits (
The X-Men
series), and blockbusters (
Spider-Man,
two series) Marvel's own production house has had the Midas touch with everything from
Iron Man
through
The Avengers
, and on to even more sequels.
Meanwhile, DC fans had to be happy with various versions of
Superman
on the small screen
(
Superboy, Lois & Clark, Smallville
) and big screen to varying degrees of success, and two successful
Batman
movie series. Most everything else has been a flop or at least didn't land in the public
I
liked
Green Lantern
and
Superman Returns,
I would seem to be in the distinct minority.
Even
Man of Steel,
which made 2/3 of a billion dollars, was seen my many as a "disappointment," leaving many DC fans in the doldrums. Recently, that's changed with
Arrow
, oddly another DC Universe similar to, but different from
Smallville,
this time centered around the
Green Arrow
character. Like
Smallville,
Arrow
is showcasing other DC heroes. But this time, one of them is getting a spinoff.
Last time The Flash came to TV (1990), he was John Wesley-Shipp.
consciousness as a "DC Comics" success story. Even though
I've been a
Flash
fan as long as I've been a comics fan. He was always my favorite, probably because of his wacky "rogues gallery," and the fantastical, bizarre situations he'd find himself in. Even as a kid, I'd seek out back-issues, as far back as I could afford. When a customer on my paper route volunteered that she'd sell me her son's old 60s
Flash
comics, it was like winning the lottery for me. So, a TV adaptation of my favorite hero is quite exciting. It's been done before, of course, in 1990, in a fun but quirky one-season run (pun intended). But I'm hoping that they do it right, and manage to work the
Arrow/Flash
universe into the
Man of Steel/Batman
universe. Otherwise, a future
Justice League
could be very confusing for consumers. Though I'm sure there are a few
Smallville
fans who are a bit confused by the new
Arrow
universe anyway.
[Excerpt]
'The Flash': Grant Gustin Cast As Barry Allen For 'Arrow' And Potential Spin-Off
"Glee's" Grant Gustin has been cast as Barry Allen (AKA The Flash) on "Arrow," The CW announced Friday. He'll appear in episodes 208, 209 and 220 of "Arrow" Season 2, and if the character is well-received,
headline the proposed Flash spinoff
. . .
Read more at: Huffington Post