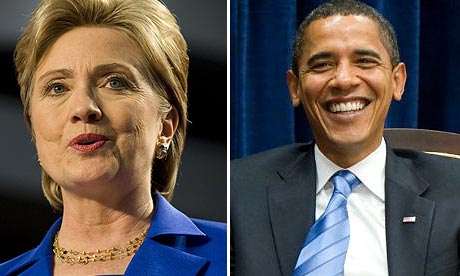 Photo from source, Guardian UK
Well, hey. I'm OK with it. You?

I went into the Democratic primaries with neither love nor hate for Hillary Clinton (I'm an odd duck, I guess). My only problem with her was a nasty tone during the primary campaign. But oddly, in American politics, primary fights are usually water under the bridge after they are over. And if Barack Obama can overlook it, who am I to hold on to the rancor?
I've got to wonder how the alleged army of PUMAs is taking this though. This has to play ping-pong inside their heads. Poor PUMAs. . .
[Excerpt]
Hillary Clinton to accept Obama's offer of secretary of state job
Hillary Clinton plans to accept the job of secretary of state offered by Barack Obama, who is reaching out to former rivals to build a broad coalition administration, the Guardian has learned. . .