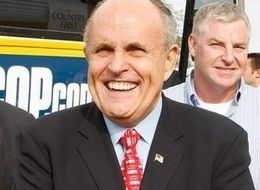 Photo from source, Huffington Post
Acckkkk! I thought we were done with this guy! After a disastrous, soooo far from the early speculative mark Presidential run, now Rudy Giuliani wants to run for Governor of New York? Really? I live 2,500 miles away from New York, but even I remember that the people of New York City were not very fond of this guy before 9/11. And what did he really do on 9/11 that was so great? He was essentially a focal point, a visible face of authority while George W. Bush was still getting his shit together.
And, ugh what a face. In fact the reason I even noticed this story was the picture that went along with it. Rudy might have made an ugly woman in drag, but yeesh. . .sans makeup, this guy would frighten small children. OK, yeah, I'm no looker myself, but of the gaggle of cartoons that ran on the GOP side this year, Rudy--a combination Sylvester the cat, Mr. Burns, and a stock Scooby-Doo villain--was by far the creepiest.
[Excerpt]
Rudy Giuliani said Sunday he will consider running for governor of New York and isn't ruling out a second attempt at the U.S. presidency.

A one-time presidential front-runner and former mayor of New York City, Giuliani dropped out of the race for Republican nominee in January after losing the primary in Florida, where he had poured the bulk of his campaign resources. . .