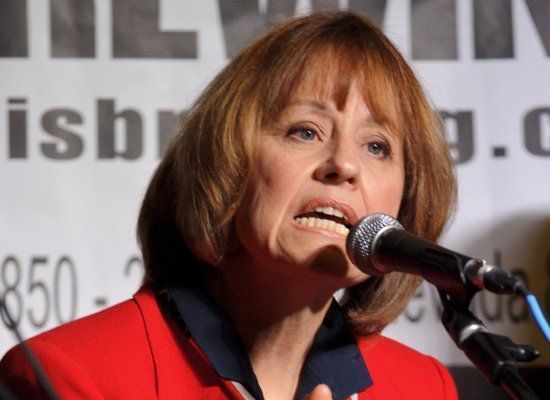 Photo from source, Huffington Post
Wow. Sharron Angle was just anointed Tuesday night in Nevada, as the GOP's choice for Senate Majority Leader Harry Reid's seat. I knew she was a wack-a-do going in, and that Reid was hoping she'd win. Reid's had a gloomy forecast in the November elections, so going up against a nutjob might give him a leg up. But I never realized the depths of Angle's weirdness. I'd imagine we'll be hearing a whole lot more in the next few months. Get your popcorn ready.
[Excerpt]
Sharron Angle: Nevada Candidate Already Providing Treasure Chest Of Goodies For Harry Reid
There was noticeable glee among supporters of Senate Majority Leader Harry Reid (D-NV) Tuesday night. The upset victory of Tea Party favorite Sharron Angle in the Nevada Republican primary ensures that the subsequent months of campaigning will be fought as much over her record as his.
By Wednesday morning, the flood of opposition research on Angle had burst wide open. Talking Points Memo reported that Angle once "spoke out strongly against fluoride, the substance known alternately for improving dental health and as a Communist plot to undermine Western democracy." Prior to that, The Plum Line's Greg Sargent pointed to an interview that Angle gave to Liberty Watch magazine in February 2010, in which she suggested support for making alcohol consumption illegal. Reid's campaign, Sargent added, was planning to paint Angle as, essentially, crazy. . .
Read more at: Huffington Post