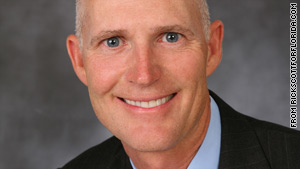 Photo of Rick Scott from source, CNN
Okay, so the Republican candidate for Governor of Florida is a former health industry executive.
Rick Scott
is that man, and his company (Columbia Hospital Corporation) had to pay out $1.7 billion for fraud. Just wow. And he's creepy lookin' to boot. Anyway, not all the returns are in, so I may be back with another update. Here's what CNN's got on it so far.
[Excerpt]
Political newcomer wins Florida GOP primary for governor
Millionaire political newcomer Rick Scott on Tuesday defeated Florida Attorney General Bill McCollum in the Republican primary for Florida governor, CNN projected.
McCollum has yet to concede. Moments before CNN's projection, he acknowleged to supporters he was behind, but said a couple of big counties had yet to fully report its results. . .
Read more at: CNN