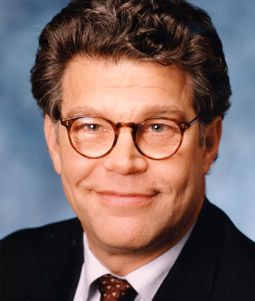 I heard the tail-end of The Mark Levin Show on the radio on the way home. If you haven't listened, I don't recommend starting, but trust me when i tell you that he has one of the most annoying voices on radio. And he's also a habitual liar. That's familiar ground if you've listened to right-wing radio of course. And on tonight's show, Levin had a guest host--also named Mark--who didn't disappoint: he lied through his teeth.
In commenting upon the heated Senate race in Minnesota (as yet undecided) between incumbent Norm Coleman and challenger Al Franken, he said that Franken was a crybaby, and that he was demanding a recount. That's not even remotely true. The difference in the vote count has dwindled to below 300 votes, in an election with millions of votes cast. And the state of Minnesota is required by law to a mandatory recount of elections that close. Why would Franken concede under these circumstances? Why should he?
[Excerpt]
The latest unofficial results collected by the Minnesota Secretary of State's Office of Tuesday's vote now show Coleman with a 236-vote lead over Franken. That's down from 725 Wednesday morning.

The Secretary of State's Office website has adjusted those numbers several times since Tuesday night, most often tightening the gap. The official tally will come once the state canvassing board meets Nov. 18. Then the recount follows. . .