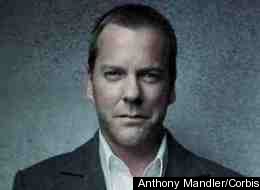 Photo from source, Huffington Post
What should be obvious to everybody, except maybe Rush Limbaugh, and his legion of wingnuts, 24 is just a show. Jack Bauer is a fictional character. US Foreign policy should not be set by the writers of an implausible--if vastly entertaining--TV program. Duh, right?
But Keifer Sutherland was still forced to spell all that out to a reporter, just in case somebody doesn't get it.
[Excerpt]
". . .If your ethics in the military, in your training, is going to be counterminded by a one-hour weekly television show we've got a really big problem. . ."