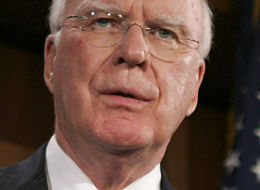 Photo of Pat Leahy from source, Huffington Post
This is one of those stories where I honestly don't know how to react. On one hand, Sen. Pat Leahy is talking about investigating Bush Administration war crimes. That's great! On the other hand, it is a special commission that will offer full immunity for the truth, the whole truth, and nothing but the truth. Immunity sounds bad. They'd be on record as war criminals (if the investigation proved it), but they'd be off scot free. Terrific.
But it could be a back-door route to actually nailing some of them. If anyone called to testify refused, they would not be immune, and could be prosecuted if others' testimony implicated them. Or, if they took the immunity but didn't come clean, they could be prosecuted for immunity. An acceptible midle ground? I don't know, I haven't processed it yet.
[Excerpt]
Senate Judiciary Chairman Patrick Leahy and White House Chief Counsel Greg Craig discussed on Tuesday the Senator's proposal to set up a truth and reconciliation commission to investigate potential crimes of the Bush administration.

"I went over some of the parameters of it and they were well aware at the White House of what I'm talking about," Leahy told the Huffington Post. "And we just agreed to talk further. . ."