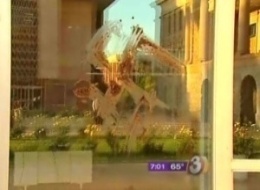 Image from source, Huffington Post
Well, that's one way to get your message across. Thanks to my friend Tracy for the link.
[Excerpt]
Refried Bean Swastikas Smeared On Arizona Capitol
The conflict over a sweeping crackdown on illegal immigration in Arizona intensified Monday as vandals smeared refried beans in the shape of swastikas on the state Capitol's windows.
More protests were planned Monday after thousands gathered this weekend to demonstrate against a bill that will make it a state crime to be an illegal immigrant in Arizona. . .
Read more at: Huffington Post