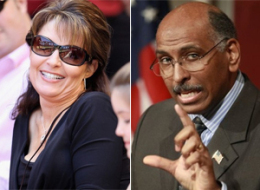 Image from source, Huffington Post

I know, I know, President Obama recently committed to offshore oil exploration, so this is not
exclusively
a Republican thing. But Obama didn't have
"drill baby, drill!"
as a campaign motto like the GOP did in 2008. And Obama didn't declare that "study" was unnecessary, and that we just need to drill here, drill now, like Sarah Palin (R-Facebook) recently did. The disaster is still growing, and I cannot claim schadenfreude on this one. Still, it bears pointing out that the mindless, simplistic drilling "solution" was misguided. If anything good comes of this, I hope that offshore drilling be regulated so that no deep water drilling happens ever again unless there is a contingency plan to deal with deep water
cleanup.
[Excerpt]
'Drill, Baby, Drill' Champions Silent On Gulf Oil Spill
More than a week has passed since the Deepwater Horizon rig exploded 50 miles off the Louisiana coast, killing 11 workers, injuring over a dozen more, and causing a massive oil spill that may eclipse the Exxon Valdez.
Yet the two most prominent political champions of offshore drilling -- Sarah Palin and Michael Steele -- appear not to have uttered a word about the incident. . .
Read more at: Huffington Post