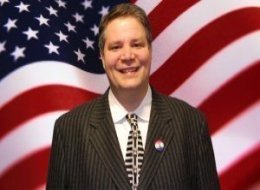 Image from source, Huffington Post
The political barometer in this country is just spinning right into crazy territory, isn't it? Putting microchips in people? Really? Isn't this the kind of thing the rapture-ready Christians like Pat Robertson and Tim LaHaye have been warning about? Isn't it supposed to be
The Mark of the Beast™
? And proposed by a Republican, no less.
[Excerpt]
Pat Bertroche: Iowa Congressional Candidate Wants Microchips In Illegal Immigrants
Illegal immigrants: can't live with them, can't put them on leashes, like human chattel. But at least one Republican candidate for the 3rd District Congressional primary in Iowa, birthplace of presidential primaries, wants to do something about this dilemma. By which I mean to say he wants to implant microchip tracking devices inside illegal aliens, because why not, right? Then we can all keep tabs on them with our android phones! . . .
Read more at: Huffington Post
Thanks to Tracy for the link.