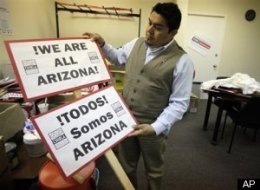 Image from source, Huffington Post
And the craziness from Arizona just keeps coming. I've got to say, this no English teachers with accents thing could be a real problem. What about teachers from Louisiana, Maine, Alabama or Kentucky? Some American accents are almost impenetrable to people not from those regions. Under these rules, George W. Bush couldn't be an English teacher. Or Sarah Palin, also.
[Excerpt]
Arizona Ethnic Studies Classes Banned, Teachers With Accents Can No Longer Teach English
Arizona's new immigration law is just about crime, its supporters say, but given that the state's new education policy equates ethnic studies programs with high treason, they may not be using the commonly accepted definition of "crime. . ."
Read more at: Huffington Post
Thanks to my friend Tracy for the link.