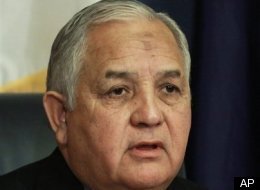 Image from Huffington Post

WTF? Seriously? I want some country-lovin', chaw-chewin' real 'Merican to explain to me why so many Republicans are for torture. Torture is a) against international law, b) emboldens our enemies, and c) does not work. It is never right to torture in the name of the United States. Not ever. I don't care what 24-inspired fantasy you harbor, torture is an ineffective way of getting information. And it doesn't help if you doll it up with a new name like "enhanced interrogation."
[Excerpt]
Rep. Reyes Introduces a Measure Re-Criminalizing Torture
Rep. Silvestre Reyes (D-Texas), the chairman of the House intelligence committee, introduced an amendment to
the 2010 intelligence authorization bill
imposing a 15-year criminal sentence on any "officer or employee of the intelligence community" who tortures a detainee. (Twenty years if the torture involves an "act of medical malfeasance"; life if the detainee dies.). . .