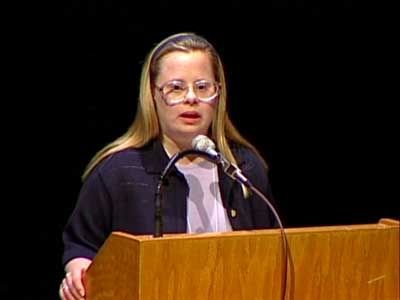 Image from source, Democratic Underground
Well, this is kind of funny. It started out with Sarah Palin wigging out over Rahm Emanuel's admittedly ill-advised use of the word "retard." This was followed by Palin's excuse making of Rush Limbaugh's excessive use of the same word. Palin excused it as satire. Later, after an episode of Family Guy featured a storyline about Down Syndrome, Palin couldn't help herself from criticising it. . .even though it is also satire.
Well, it turns out that the actress in the episode actually has Down Syndrome, and was in on the joke. And she doesn't seem to have a very high opinion of Palin.
[Excerpt]
"Family Guy" Actress with Down Syndrome Puts Palin in Her Place
. . .In my family we think laughing is good. My parents raised me to have a sense of humor and to live a normal life. My mother did not carry me around under her arm like a loaf of French bread the way former Governor Palin carries her son Trig around looking for sympathy and votes. . .