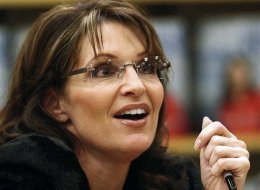 Image from Huffington Post

In what is sure to give the network airing it a huge ratings boost, Sarah Palin--after running for Vice President, and staying in the political public eye ever since--has finally appeared on one of the Sunday morning political shows. To nobody's surprise, it was FOX "News" Sunday (from the Tea Party Convention in Nashville!). Also to no one's surprise, a liberal like me found it nearly impossible to sit through.
Palin's speaking style (
transcript here
) has not improved one bit since the Katie Couric interview, though she's added a few more talking points and big words to her repertoire. She is still gesticulating wildly, while spewing overly long "word salad" replies that are a combination of "home spun" partisanship, colloquial English and "pageant answers." This morning, she seemed particularly over-caffeinated, and almost perturbed, which was odd given that she's in such friendly territory. And lest we forget, this appearance was taped, no doubt edited, and performed by a
co-worker.
I still find myself in near disbelief that this woman inspires any kind of loyalty, inspiration, enthusiasm and respect from her legion of followers. Shes' very nearly insufferable to listen to. She's abrasive to me in so many ways--and has been since nearly day one--it is hard to conceive that people see her in a leadership role. Sorta like George W. Bush, though I will grudgingly admit, he was slightly more qualified.
[Excerpt]
Palin Considering 2012 Run, Defends Limbaugh's Use Of 'Retard' On Fox News Sunday
Former Alaska governor Sarah Palin didn't cage her answer when pressed Sunday morning as to whether she would consider a run for president in 2012.
"I would, I would if I believe that is the right thing to do for our country and the Palin family. Certainly I would do so," she told "Fox News Sunday," in an interview that was taped before she addressed a Tea Party convention the night before. "I think that it would be absurd to not consider what it is that I could potentially do to help our country ... . I won't close a door that perhaps could be open for me in the future. . ."