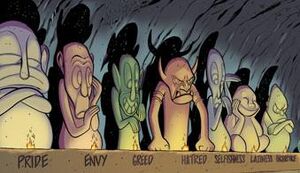 After the liberal talk radio network Air America Radio expired, my usual routine of listening to The Ron Reagan Show at the end of the day was over. So, while seeking out something else to provide background noise, I stumbled upon The Karel Show, on Green960 out of San Francisco (I have to do this on the computer, as there are only conservative talk radio stations in Las Vegas). I recognized Karel by his picture, but I'd no real idea who he was.
It turns out he's a long-time California radio personality, and a writer, and has something of a tumultuous employment history. His program is at turns entertaining, off-putting, funny, irritating. . .I'm really not sure what to make of it yet. The production values seem kind of low, like they're still working the kinks out, and Karel himself--an out gay man who makes no bones about it--is rather mercurial. But when he has a point, he really has a point.
[Excerpt]
A Sinful Nation
. . .on a recent Saturday afternoon [I] found the Brad Pitt/Morgan Freeman movie Se7en on IFC. I've seen the film a few times, but it's so well acted and directed that out of the 546 channels it seemed the best option.
Well, that was a bad idea. Because as I watched the film and watched Kevin Spacey's killer kill his way through these medieval constructs I realized that these seven "deadly" sins are not only no longer "sins," but have replaced the very fabric of our nation. America is "Guilty!" as charged of almost every one. . .