You know, it's kind of gratifying that the marriage equality successes are starting to rack up so rapidly. Startling, a little, particularly when you see ARKANSAS. IDAHO. It's a little stunning. But it's a long time coming. To anti-gay marriage activists (and just what is their deal, anyway?), it's got to seem like this is all happening too fast. But this movement began in
1969.
And that's if you don't count quiet groundwork laid for decades before that. We endured a lot in the decades in between, and spent the first days of the 21st century watching state after state erect legal barriers to our civil rights.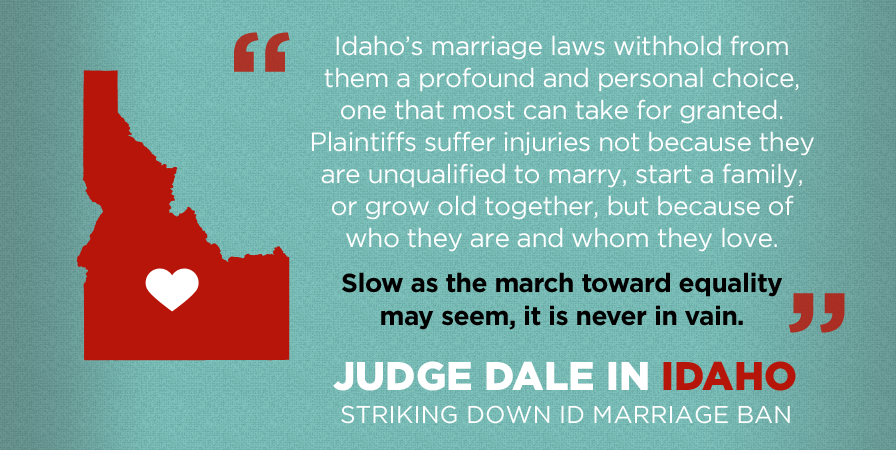 Through it all, we had to hear some of the most vile, hateful, nasty things said about or lives and our loves. We still do, amazingly enough, as we hear citizen testimony as these things start to get undone. The hatred and vitriol is almost always cloaked in religion, and if we don't take it well? We're called intolerant! I'm still amazed by this, from seemingly ordinary people. I'm grateful that I rarely come against that sort of people in person, I'm not sure how I'd react. And still, even with this dramatic tearing down of the walls built to keep us out of equal citizenship, there are still delays. Stays. But we'll get through it. And through all of the frustration and incoming verbal fire, it's all so exciting!
[Excerpt]
Idaho's Gay Marriage Ban Struck Down By Federal Judge
A federal judge has ruled that Idaho's ban on same-sex marriage is unconstitutional.
The ruling, handed down by U.S. Magistrate Judge Candy Dale on Tuesday, followed oral arguments on May 5. Earlier Tuesday, Idaho Gov. Butch Otter (R) filed a preemptive motion asking for an immediate stay if Dale did rule against the gay marriage ban. . .
Read more at: Huffington Post