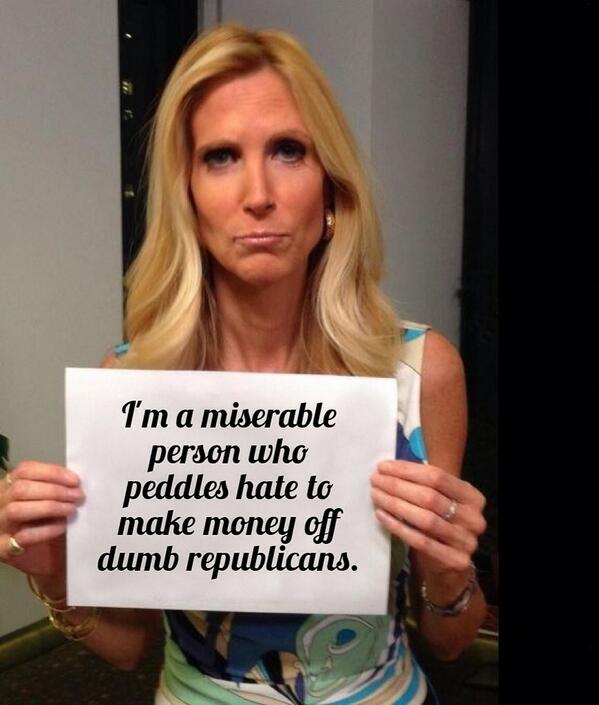 Proving that there is literally
nothing
either the President or First Lady can do that won't inspire outrage, Right Wing World is in a tizzy over a photo of Michelle Obama holding a card that says #BringBackOurGirls. It's part of an awareness campaign over the Nigerian girls who were taken to be sold into slavery. It's a horrible issue, and it's a widespread awareness campaign. But for some reason, Michelle is just awful for having participated. I have
no
idea why.
Ann Coulter--long past her sell-by date, but apparently unaware of that fact--still thinks she's relevant, apparently, and decided to join in on the "whack-the first lady" game that was going on, and took a parody selfie with a sign that said "BringBackOurCountry." Since Coulter herself is a horrible person, the Twitterverse reacted with wit and
bite.
And though Coultergeist thrives on attention,
any
attention, it's still fun to see her get a drubbing.
[Excerpt]
Twitter Trolls the Hell Out of Ann Coulter's Attempt at Hashtag Activism
This is what happens when Ann Coulter tries to mock hashtag activism on Twitter. On Sunday night, Coulter decided to take what appears to be a shot at First Lady Michelle Obama by posting an photo of herself holding a sign with the hashtag #BringBackOurCountry (instead of #BringBackOurGirls, which the first lady recently posted in support of the kidnapped schoolgirls in Nigeria). . .
Read more at: MediaIte