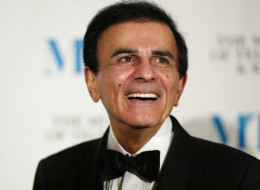 Image from source, HuffPo
These days, most of my Sunday* mornings begin with extreme frustration, because I--for reasons I can't articulate--tend to watch
Meet the Press
and one or two of the other political shows. But when I was a kid, it was a morning spent with anticipation. Because I was a pop culture junkie even then, and I'd be so excited to find out who was number one on
American Top 40.
[Updated to add: Other write-ups have listed Saturday as the broadcast day, but I'm virtually certain in was Sundays, at least in Columbus, Ohio.]
Nobody sets their watch by radio shows anymore, unless they're ditto heads. But in the 70s and 80s, Casey Kasem was
it
, with his hours-long radio countdown of the day's hit songs, sprinkled with factoids, mini-interviews, and of course, long-distance dedications. The funniest of the latter was a woman's heart-rending dedication of Bread's
Everything I Own
, to her lost
guitar.
Kasem's show was so hot, it spawned countless imitators there for a while, with people like Rick Dees getting involved with his own countdown, as well as a shorter version for Kasem on TV.
Amazingly, though I was a media-savvy kid, it took me some time to realize that Kasem was a bigger part of my childhood than I knew at the time. Because I was a
huge
fan of his--unknowingly--on Saturday mornings too. His voice work on kids' cartoons was legendary, especially as the voice of Robin on
Batman
and
The Super Friends
, and of course as Shaggy on
Scooby-Doo.
As Casey started to fade from his peak as a pop culture phenomenon, his wife Jean became a blip on the radar. Her work as Nick Tortelli's eccentric wife on
Cheers
(and later its short-lived spinoff) briefly eclipsed her husband's career.
And now, sadly, Jean seems a bit loopy, throwing meat (?!) at people and screaming incoherently, and her husband has passed, after a long decline. It's a sad ending to such an interesting, quirky celebrity couple. But I guess you can't script your own ending like a dedication. RIP, Casey. And now, a story about a dog. . .
[EXCERPT]
Casey Kasem Dead: Legendary Broadcaster Dies At 82
Casey Kasem died Sunday morning at St. Anthony's Hospital in Gig Harbor Wash. on June 15. The legendary broadcaster was taken off life support at age 82. Kasem suffered from a progressive form of dementia known as Lewy Body Disease. . .
Read more at: Huffington Post